Guide to camposol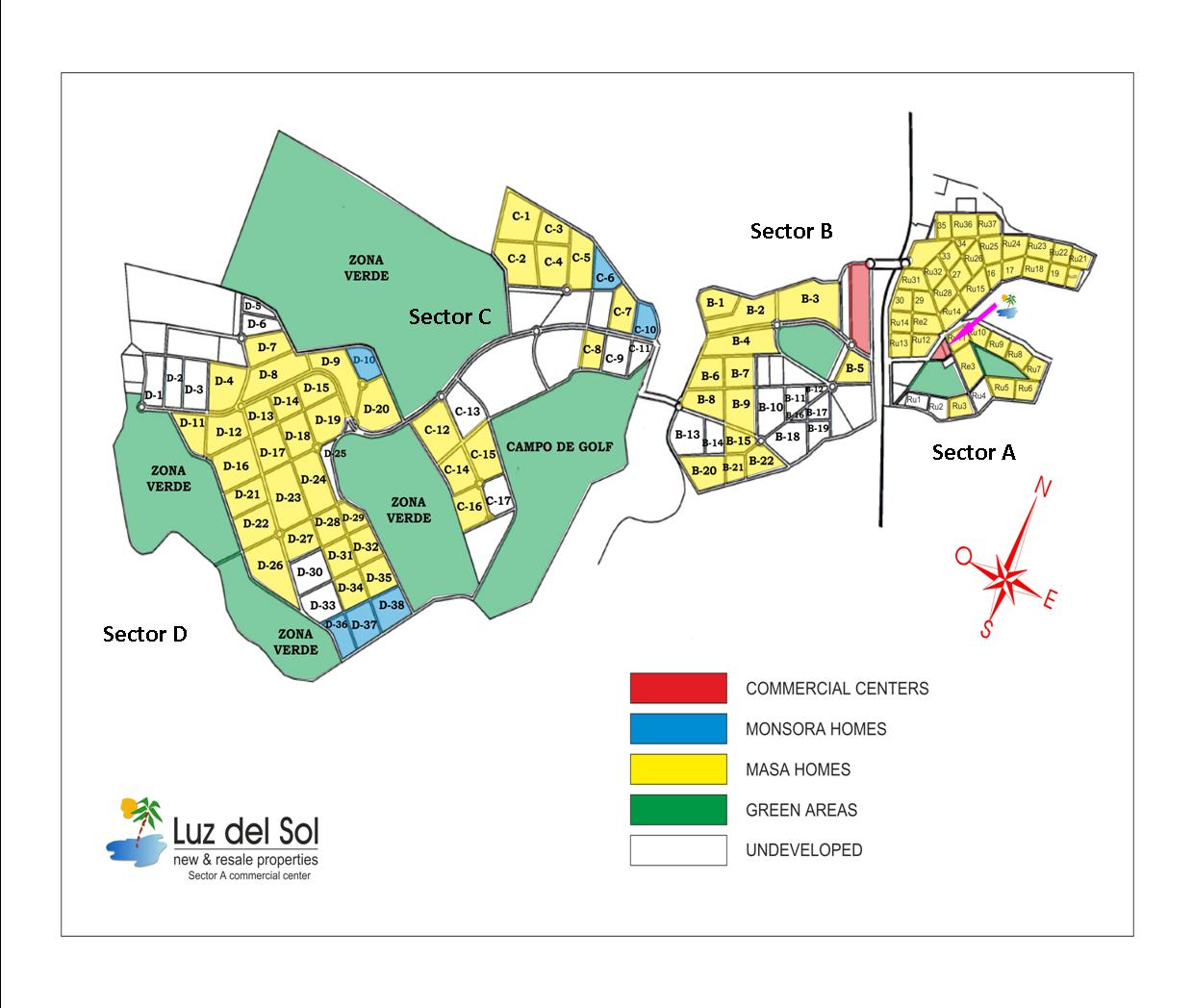 CAMPOSOL
Camposol, when translated from Spanish meaning Countryside Sun. Located just 12 minutes from the beaches of Puerto de Mazarron, Bolnuevo and Isla Plana.
Camposol Golf Development has everything to offer the thousands of holiday makers and visitors each year, as well as the people who have chosen to make this development their permanent home.
Camposol is an urbanisation and there are no current community charges.
Several styles of property can be purchased, from a 1 bedroom terraced Villa to a detached 5-8 bedroom, 4 bathroom Villa, on a large parcel of land. Built over a period of years, the development has grown into an oasis offering a calm and relaxing atmosphere and a great social community spirit.
There are 2 Commercial Centre's that provide everything required on a day to day or month to month basis.
The development is made up of 4 main sectors. Sector A has a Commercial Centre which offers a variety of bars, restaurants, supermarket, hardware store, weekly thursday market, tennis courts, estate agents, pharmacy, car sales place, other shops and a Medical Centre.
Sector B has a larger Commercial Centre with numerous bars and restaurants, shops, bank, Social Centre, supermarkets, petrol station, post office etc.
Sector C has the Golf Course. The golf club can be used by the public and has a great bar/restaurant which overlooks the golf course and has a large outside terrace.
Sector D is a 5 minute drive to the amenities.

The Campobus offers a dial-a-ride service on and around Camposol plus the surrounding area. They are on Facebook. there is a small joining fee along with a small monthly membership. Ideal for people who do not want to drive or cannot. Also there is now a legal taxi service called Camposol Cabs who can also be found on Facebook. They do local and long runs plus airports transfers from Murcia and Alicante.
Every Thursday there is a market that is held at the Sector A Commercial Centre, selling a wide range of products including fresh fruit and vegetables.
The development boats a superb 18 hole golf course with the club house terraces overlooking the first tee, which is open to all. If you are not a golfer just enjoy the stunning golf course and panoramic mountain views while relaxing over a cool glass of wine. The golf course is challenging for all levels of player with water features and narrow fairways. The 18th tee is tantalizingly close to the luxury golf club house.
Hot Springs – A short walk through the surrounding open land takes you to the thermal spring. An ancient volcanic flow provides a constant stream of water at 50 degrees, which flow into several splash pools and onward via several channels into the local Rambla. Immerse yourself in the health giving waters which are full of vitamins and minerals, leaving you feeling refreshed and rejuvenated.
The new road systems, together with the AP7 toll road mean that Camposol is easily accessed from the major airports of Alicante and (San Javier) Murcia, journey times being approximately 40 minutes to 1 hour. The New International Airport at Corvera is due to open during 2016 and construction of the new Paramount Theme Park and Movie Studios should commence towards the end of this year.
Camposol (El Saladillo) is only a 15 minute drive to the local beaches of Puerto de Mazarron. There is a brand new Marina at Puerto de Mazarron and the Paseo has recently been renovated. You will find an abundance of bars, shops and restaurants here. The beach is long, sandy and a blue flag beach. Another local beach is Bolnuevo, again a 15 minute drive from Camposol.
Over the past couple of years, Camposol has become "unrecognizable" with all the changes that have been made. The residents and visitors cannot believe how this development has evolved into a community. There are direct and specific transport links to local schools and surrounding areas.
Located just a 30 minute drive to Murcia International Airport and 70 minutes to Alicante (ELX) airport.
Camposol also offers a wide range of clubs and associations to appeal to all interests ranging from arts and crafts to children's activities, to support groups and much, much more…..

To view all properties for sale in Camposol, click this link